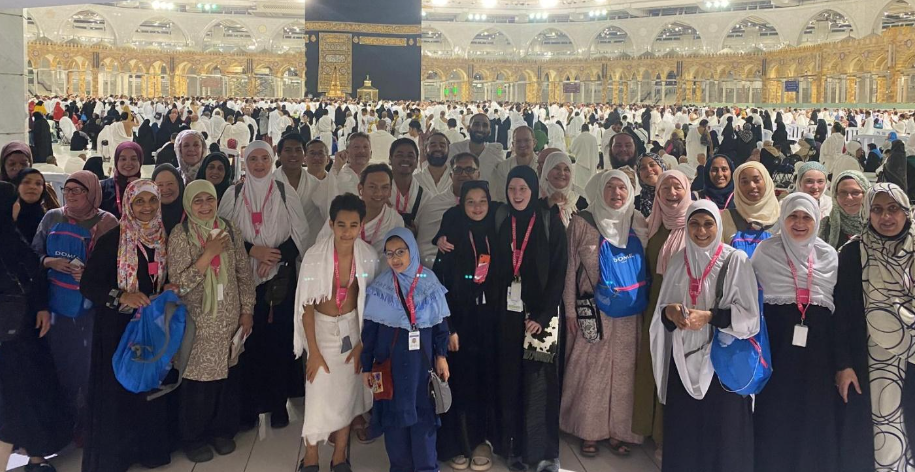 Ramadan / April 2023
Dear Friends of the Convert Muslim Foundation
We pray that you are enjoying the bounties promised throughout this blessed month and now, as we enter its last 10 days and nights, may your rewards be increased in abundance.
The Convert Muslim Foundation would like to take this opportunity to express our sincere thanks for your kind support and continued prayers for the success of our work over the past year. We are so grateful that you consider us worthy of your continued generosity. As a means of updating you on the progress made and, so that you feel fully informed of where your generous donations have been directed we would like, as a means of highlighting some aspects of our year's toil, to share the following:
---
500 copies of 'Being Muslim' by Dr Asad Tarsin
The Convert Muslim Foundation have acquired 500 copies of the highly recommended book, 'Being Muslim' by Dr Asad Tarsin. This is a wonderful introduction to Islam used by ourselves and many of our Convert Care facilitators for inclusion in Shahadah Gift Packs. The 500 copies are for FREE distribution to 140 prisons in the UK to fulfil the needs of the growing numbers within the prison system who are converting to Islam while serving a sentence.
A 2010 report by the Chief Inspector of Prisons stated that '30% of the Muslim prisoners interviewed had converted to Islam while in prison' suggesting 'some of whom were "convenience Muslims" who adopted the religion in order to get benefits available only to Muslims.' This long existing and erroneous suggestion is challenged by the latest research which suggests that the most important aspects of Islam, that of camaraderie, brotherhood and Islam's stance on respect for racial and social justice have long been conveniently ignored in reports previously aimed at arriving at an understanding of the phenomenon of Conversion to Islam in prisons in the UK.
And extract from 'Inside Out: Supporting Muslims in Prison and Beyond' – a report by the Convert Muslim Foundation
---
Beacon Mosque Award
The Convert Muslim Foundation sponsored and presented a Beacon Mosque Award to the Mosque voted outstanding in the provision of Convert Care Services at the Beacon Mosque Awards event in November 2022 and, after negotiations with the organisers, CMF will continue to sponsor and present this award in the future, God Willing.
This collaborative initiative with Faith Associates Beacon Mosque Awards of immense value as it provided CMF with the opportunity to meet the representatives of the many Mosques involved in the Award process and, most importantly, to hear from each their needs with regard to establishing Convert Care hubs within their Mosque service provision. CMF's representatives engaged in meaningful discussions with Mosque representatives and governing bodies which was hugely beneficial since such opportunities rarely arise. The information tendered provided CMF with the detail necessary to take the matter further by looking at the provision of a bespoke training programme it is hoped will be rolled out over the UK at the end of this year, God Willing
---
Transformational: Converts in British Muslim Life
We are conducting a new study about experiences of Muslim converts in Britain. The aim of this three-year project is to explore if, and how, converts play a role in shaping, or transforming, Muslim communities in Britain by exercising leadership in public and religious life.
In collaboration with the Convert Muslim Foundation, we will explore how converts demonstrate leadership in three distinct areas: academia, religious leadership, and the cultural and creative sectors.
Our research project, 'Converts to Islam in positions of Leadership and their impact on the indigenisation of Islam in Britain' in collaboration with the Centre for Studies in Islam, Cardiff University commenced in September 2022. Interviews are already underway with the good and the great of the Convert Community taking part.
The aims of the study are:
• Examine what resources (social, economic, cultural and religious) Muslim converts utilise to achieve positions of leadership in their professional roles and/or within Muslim communities.
• Explore the extent to which Muslim converts in leadership positions feel that they hold unique positions as 'bridge builders' between British Muslim communities and wider society, and the implications of this for their personal and professional development.
• Understand the extent to which the 'integrative potential' of Muslim converts informs their personal and professional development, and the roles they undertake in their work and in Muslim communities.
• Share the experiences of Muslim converts in leadership positions to inform and improve recognition of their contributions to an indigenised British Islam among converts, Muslim communities, and wider British society.
---
Conversion to Islam in Prison
The Convert Muslim Foundation has been actively involved in the production of a pan European research project into Conversion to Islam in Prison. As members of the projects steering group CMF are also contributing towards a training and educational programme, devised by Dr Matthew Wilkinson of Cardiff University who initiated the research and wrote the book 'Islam in Prison' just published. The educational programme is due to be rolled out in the prison system later this year and hopes to provide a more in-depth appreciation of the faith as a means towards building focus and direction on release.
The book 'Islam in Prison', which acknowledges the contribution of Batool Al-Toma of the Convert Muslim Foundation, explores how Islam is understood and practised in British and European prisons and is an indispensable primer for prison and legal practitioners and policy-makers and contributes a much-needed evidence-base to a controversial subject. Based on original evidence from 279 Muslim prisoners and 79 prison officers, it explores how Muslims come to be incarcerated, how the practice of Islam affects rehabilitation, the types and effects of Islamic conversion and the professional practice of officers and chaplains. The authors also investigate the common belief that incarceration fosters Islamist extremism. Based on this evidence, they suggest improvements to provision and rehabilitative opportunities for Muslim prisoners.
---
Our Fatima of Liverpool
As part of a wider collaborative effort involving a number of Convert Care facilitators across the UK the Convert Muslim Foundation was responsible for the organisation and execution of a one-day programme, spearheaded by Yahya Birt whole publication 'Our Fatima of Liverpool' was launched on the day. The commemorative event was hosted by Liverpool's Abdullah Quilliam Society to celebrate the life of Fatima Elizabeth Cates, a convert to Islam who died in 1900. The CMF also contributed towards the headstone erected over her grave at Anfield Cemetery which was organised by Ms. Amirah Scarisbrick.
---
Exemplars of our Time
The Convert Muslim Foundation contributed to a request for funding made by the eminent photographer, Peter Sanders to assist with the publication of Exemplars of our Time celebrating the fascinating and richly detailed journey into the world of sainthood in Islam; a subject that is mystifying to many Muslims today. This penetrating exploration makes the case that the friends of God – the saints – are, and always have been, the true Muslim role models and while they seem to have disappeared in modern times, they are in fact hiding in plain sight. (READ MORE)
'Oh God Bestow on us Your love and keep us in the company of the ones You love'
We hope this beautifully produced publication will be one that converts to Islam find illuminating and can take much from with regard to building on their own inner spirituality and strengthening their relationship with God, with themselves and with those closest to them and who support them on their spiritual journeying. We pray that Allah in His mercy continues to massage their hearts to the beauty of Islam and that they grow to love the Prophet Muhammed SAW and emulate his character and personality through reading about these Awliya - friends of Allah, throughout their daily lives. 'By reading about the lives of these men and women dedicated to God we can discover wisdom and guidance for our own lives' – Peter Saunders
---
Seerah Umrah Tour
The Convert Muslim Foundation, in collaboration with Dometours International, organised a Seerah Umrah Tour for a group of 45 Converts to Islam in Jan/Feb 2023. The hugely successful tour included a wealth of historical information from the Seerah of Rasul SAW as well as visits to all of the historical sites around Makkah and Madinah and, emulating the Prophet Muhammed SAW, walks to Quba and Uhud. Visits were organised to noteworthy museums where historians took the group through the finer details or the Hijrah, a date farm visit, storytelling with the inimitable Jumanah Moon and an evening of spiritual music and nasheed by a wonderful Turkish Nasheed group preceded by a scrumptious Turkish meal hosted by the Turkish Government's Hajj and Umrah support organisation in Makkah. (READ MORE)
The 10-day programme, led by Sheikh Abdurahman Elhelbawy of Dometours, Sidi Amin Buxton of New to Islam, Edinburgh as our spiritual advisor and Batool Al-Toma of CMF as the Umrah Guide, was hailed by all who participated as a most amazing experience overflowing with information and knowledge, previously unheard of by many of the pilgrims, as well as deeply spiritual experiences that we hope will remain memorable to all of the group for eternity.
For more information on our endeavours please open the link to the attached video. https://youtu.be/AKU4LfborJ0
---
And finally…
As 2023 gathers pace and much work looms ahead that requires our attention, we find ourselves having to humbly ask for a small favour. For CMF to be in a position to progress its projects to a growing and developing convert community with guaranteed stability and certainty we kindly request that you consider us worthy recipients of your donations of Zakat and Sadaqa this Ramadan.
We fully appreciate that the cost of living can be prohibitive at this time and we only ask from those who can afford what they can. We hope that knowing that, whatever you can give, it will be written for you as a Sadaqa Jariyah will inspire your generosity. We will continue to forge ahead with passion and determination to fulfil the needs of all who seek our help, given wholeheartedly by us, on your behalf.
Most importantly of all, please remember us and our work in your daily Du'a.
May you all reap the abundant rewards promised throughout the last days and night of this blessed month and enjoy the warmth of a joyful and blessed Eid with family and friends.
Warmest wishes – Wassalam
The Convert Muslim Foundations team
Director, Trustees and Administration.